I was one of those shattered yesterday watching live streaming at the BBC News of Notre Dame burning. You don't have to have visited to know how meaningful it has been to millions of people. Not to mention a landmark of Paris, the City of Light.
But I have been there, stood on its ramparts, and looked out over the city. I have peered upward toward the rose window and watched late afternoon sunlight streak through and cast rainbow colors on the floor of the cathedral. Yet, even if I hadn't, I wouldn't be less horrified watching the flames climb higher and higher in a darkening sky.
It felt awful, catastrophic, hopeless; I couldn't turn away.
In a few remarks at close to midnight Paris time Marcon looks absolutely shaken. Those around him appear equally devastated. The past few years Paris has experienced a lot of loss and tragedy. The grief was palpable. Marcon finishes and receives a hug.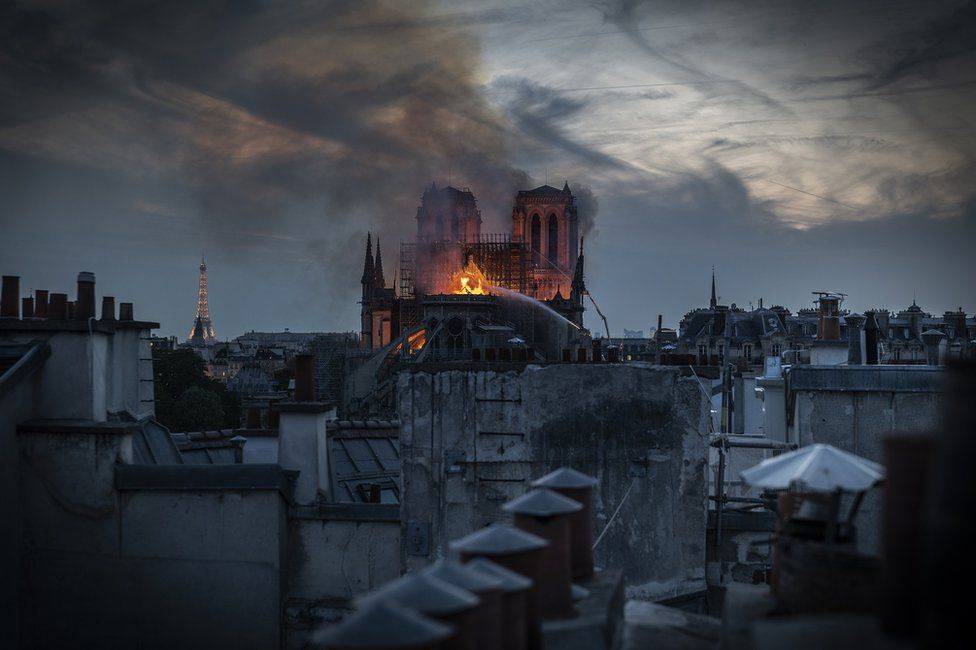 BBC News, smoke and flames are seen billowing
Oaken roof supports were said to date back to the 1100s.
Circa 1860
An 1853 photo by Charles Nègre of Henri Le Secq next to 'Le Stryge' gargoyle
To all of Paris, thoughts and prayers, an outpouring of condolences. Our Lady will arise from the ashes.